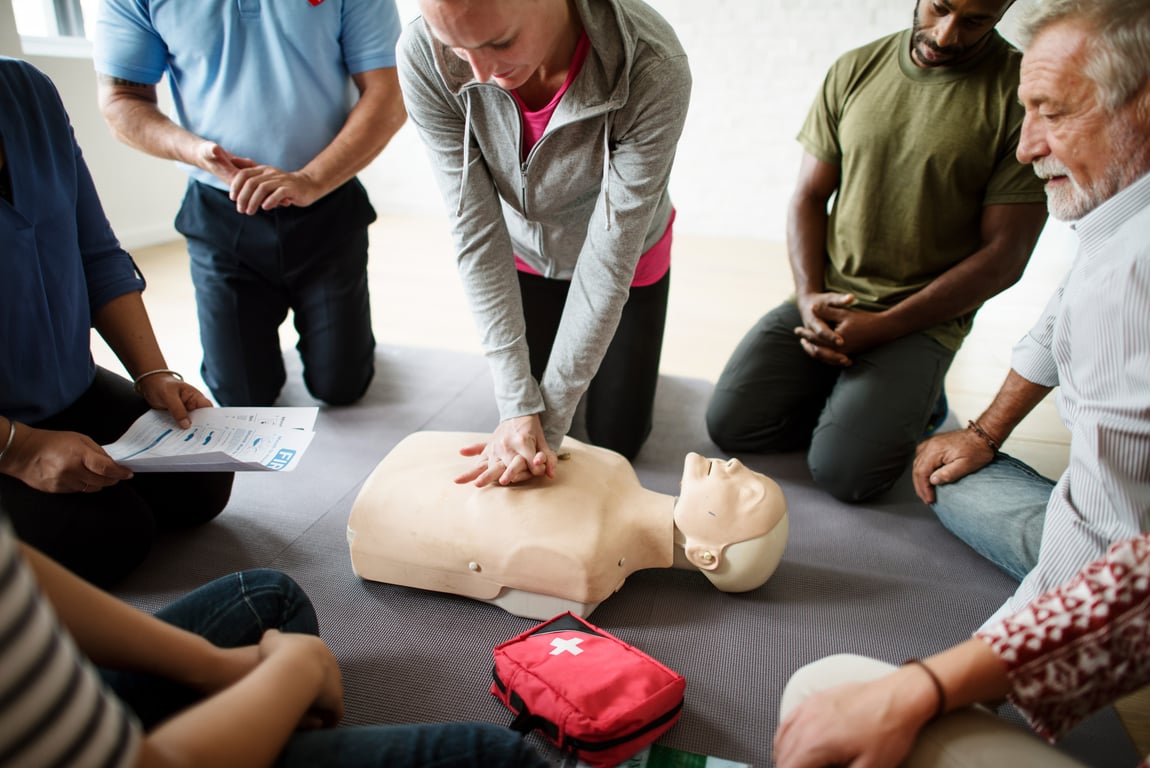 (SA) Provide First Aid
First Aid - HLTAID011
Why do first aid?
This course provides you with the Skills and Knowledge to apply first Aid in the workplace First aid can be applied to our everyday lives and is also a requirement for many workplaces.
Knowing how to apply first aid procedures as a first responder is an essential skill and knowing how correctly respond to accidents in the right way is important life skill to have.
By undertaking our Provide First aid course you will learn how a range of knowledge and skills that will equip you with the capability to respond to incidents and even possibly save a life of a loved one when needed. You never know when you will need to draw upon your first aid knowledge and being prepared to be a first responder to a life-threatening injury is a skill that you will use throughout your life.
Our first aid course will teach you the following skills and knowledge:
- first aid guidelines from Australian national peak clinical bodies - potential incident hazards and risk minimisation processes when providing first aid - infection control procedures, including use of standard precautions and resuscitation barrier devices - requirements for currency of skill and knowledge for first aiders first aid codes of practice - appropriate workplace or site procedures relevant to the provision of first aid - Be up to date with guidelines and procedures including: - ARC guidelines relevant to the provision of first aid - legal, workplace and community considerations including: - duty of care requirements - own skills and limitations as a first aid responder - consent and how it relates to the conscious and unconscious casualty. - privacy and confidentiality requirements - awareness of potential need for stress management techniques and available support for rescuers - considerations when providing CPR, including: - upper airway and effect of positional change - appropriate duration and cessation of CPR - appropriate use of an AED - safety and maintenance procedures for an AED - chain of survival - how to access emergency services - techniques for providing CPR to adults, children and infants including: - how to recognise that a casualty is unconscious and not breathing normally - rate, ratio and depth of compressions and ventilations - correct hand positioning for compressions - basic anatomy, physiology and the differences between adults, children and infants relating to CPR - signs, symptoms and management of the following conditions and injuries: - allergic reaction - anaphylaxis - asthma - non-life-threatening and life-threatening bleeding - burns - cardiac conditions, including chest pain - choking - diabetes - drowning - envenomation - all current treatments - eye injuries - fractures, dislocations, strains and sprains - head, neck and spinal injuries - hypothermia - hyperthermia - minor wounds - nose-bleed - poisoning - seizures - shock - sharps injuries - stroke
Coursework & Assessment
This course is a competency-based training program and you will be assessed via a combination of multiple choice questioning, incident reporting and practical demonstrations.
Renewing this first aid qualification
First aid qualification includes CPR and is required to be renewed every 3 years with the CPR component to be renewed every 12 months.
For experienced first aiders we also offer a condensed refresher course to allow you to stay up to date with current practices and procedures. Have you studied with us before? Ask us about our discount for your next course!
Units
HLTAID011 - Provide First Aid
FAQs
For experienced first aiders we also offer a condensed refresher course to allow you to stay up to date with current practices and procedures.
Yes we do! Please contact us on 1300 525 663 to discuss your requirements.
Upcoming Courses
| | | | | |
| --- | --- | --- | --- | --- |
| Date | Time | Location | Cost | Enrolment Form |
| 14/12/2023 | 10:00:00 PM | Adelaide, SA | $125 | ENROL NOW |
Delivery:
Blended (Face-to-Face & Online)
Duration:
8 Hours Face-to-Face & 8 Hours Online
Location:
80 Currie Street Adelaide, SA
Recognition of Prior Learning:
RPL is not available for this course.
Enrol Now →